How an Art and Design Class Adapted to the New, Online Environment
Anna Ursyn, Ph.D., a professor of Digital Media and head of the Digital Media Area at the University of Northern Colorado, shares her and her students' experiences in adapting to the new, online learning environment as well as to life during the coronavirus (COVID-19) pandemic.
Ursyn, who taught five courses in the School of Art and Design this spring semester, said the shift to online learning wasn't a huge challenge for her since she's experienced in teaching online courses and accustomed to small classes.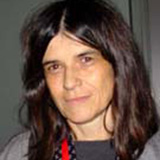 "The biggest challenge for my students was what they had access to in terms of hardware, software, peripherals and the internet connection. Some students had to share one computer with the rest of the family, while others only had a tablet or outdated computer," she said. "Adobe was kind to give students free access to their products during the pandemic, which helped a lot, but some students were not able to take advantage of this opportunity because they didn't have the proper equipment."
Ursyn asked UNC's IM&T for an upgrade to Zoom Pro, which they "graciously agreed" to grant, and that made a huge difference.
During her class meetings on Zoom, many students discussed how they were adapting to the new environment both in and out of the classroom. Ursyn said there were many different reactions to the new situation:

Above: Grad student Crystal Zhen developed sketches and 3D models of the SARS-CoV-2 virus.
"Some students felt isolated and were happy to see their classmates online, while others could only join by communicating via chat by typing."
One student mentioned that the grocery store she works at had run out of gloves, and another student offered to send extra gloves to her. Other students discussed frustration with their landlords, and another actually caught the SARS-CoV-2 virus, which resulted in Ursyn extending the deadlines in her courses.
"I added extra credit to Canvas worth 10% of the grade, so those with any sorts of problems could do some extra work to raise their grades; I am softer on work turned in late, which is called mastery teaching, when the learning outcome is given a priority," she said. "We discussed work to be completed on a one-on-one basis, and I made suggestions based on particular skills, hopes and goals of each student. My phone alerts me about incoming emails, so I can reply fast, and I have my phone on pretty much 24/7."
Since her courses revolved around art and design, she came up with ways for students to complete assignments and share their final results with their fellow classmates during the Zoom meetings.

After returning from spring break, students presented their four-legged companions during their Zoom meeting with their fellow classmates.

Ursyn asked her students to sketch their pet and present the results in their meeting.
For example, students developed an Instagram post about the importance of vaccination for an assignment on micro words that focus on certain topics, such as bacteria and virus (image at right). These assignments had a team manager who helped lead their groups in order to deliver their final project.
"Those skills are essential in digital media, as most projects are developed as teamwork," Ursyn said. "Hiring companies are after quality portfolios showcasing talents, new idea generation, cognitive and abstract thinking, brainstorming skills and supportive attitude. There are also more and more global collaborations, and my students are more ready for some new working styles that might evolve out of this situation."
One of her students, Trevor Erpelding, a freshman who's majoring in Art and Design, expressed his thoughts on the transition to a purely virtual learning environment:
"My thoughts on the transition to online classes have been mixed. At first, it was nice because I was able to be with my family and friends … it didn't turn out exactly as expected.
A big reason I chose to live on campus was to become more independent and be able to go to actual learning environments and studios and surrounded myself in art and individuals with a similar mindset; however, all that is gone, and now that I am home, I have a different set of responsibilities and motivation."
Despite the various issues in moving to an online learning environment and staying at home, Ursyn wants her students to remember these times as a "special occasion for concentrating on making art and becoming really good at it due to some extra time and the ability to focus, rather than to think of it as isolation and uncertainty."
According to her, many artists who apply for residency programs work in isolation with no outside visits allowed in order for those artists to focus on their projects. Ursyn encouraged her students to use the isolation time like that, so they'd remember those times as an opportunity to focus on their work and growth, rather than isolation. "I asked them to keep making quick sketches and create their visual stories, their artistic voice and personal styles."
—Written by Katie Corder