Professor Helped Students with No-Contact Drop-Off of Supplies, Virtual Learning
As courses transition to alternate delivery for the remainder of the semester, University of Northern Colorado professors are finding new ways to teach courses and prepare students for online learning.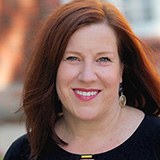 Anne Toewe, professor of Costume Design and head of Theatre Design and Technology, teaches several courses including Beginning Costume Design, Costume Technology, Individual Performance and Advanced Individual Performance.
Here, she shares examples of how she helped her students more easily adjust to the new learning environment:
Toewe says she worked with UNC's Information, Management and Technology (IM&T) department to drop off a student loaner laptop on one of her student's porches after the student was quarantined after coming in contact with someone who tested positive with COVID-19.

Above:Toewe dropped off supplies for one student at the South Hall bike rack shown in the image.
Then, understanding that many students don't have paint and other supplies, she picked some up and dropped them off on another student's porch in Windsor and at a bike rack at South Hall for yet another student. Toewe also dropped off cat food for a student whose money was short due to her job cutting hours.
"Getting materials for students from campus before we were shut down, or even from stores if they needed it, gave me an excuse to leave my house," she said. "The students always seem so grateful. But like I said, I'm happy to get out of the house with a purpose."
Erin Mallory, a junior studying Theatre Arts with an emphasis in Design and Technology, said she would have had to drop the Scenic Painting class if Toewe had not delivered supplies to her.
"At the beginning of the semester, I purchased a brush set that was required for the class but because I was gone the last day before spring break and didn't know what was going to end up happening, I left them at the university," Mallory said. "Dr. Toewe brought me those, along with a kit with paints, muslin, and a frame so that I could continue working on my projects at home. Honestly, if I hadn't been able to get those supplies I would have had to drop the class, because there was no way I was going to be able to find the time or money to buy another brush set, plus all the paints and other necessary tools."
To begin transitioning to online classes, Toewe also created an online survey in her Costume Design and Costume Technology classes that asked for the students' preferences on how upcoming topics should be taught. The students voted to have any lectures be prepared as a video lecture for them to view on their own time, while any in-class discussions be held via Zoom rather than an online discussion board.
Students in Toewe's Individual Performance classes are working on a critical analysis in response to a documentary series they watched; the essay will be combined with the students' previous grades before spring break.
For her Advanced Individual Performance course, students were working in advanced positions on a production before break, including working as designers and stage managers. Now, Toewe is having one-on-one meetings about the students' performances in their roles.
Additionally, Toewe is inviting UNC alumni working in the theater industry to be guest lecturers and answer students' questions about their career paths and experiences.
"Since the entertainment industry is shut down, many who haven't been able to chat with my students in the past now have time on their hands, and they seem to be happy to help," Toewe said. "Once a Bear, always a Bear."
Toewe said teaching online courses offers a different way for her to connect with students.
"Certainly the experience has asked us all to pivot in a new way, and I can certainly say, I have no reason to ever have to cancel a class in the future – it will always be possible to offer the class online through Zoom, online discussion or just Canvas video lectures, and that is a good thing for the students in the future," Toewe said. "I feel like I'm able to reach out and serve our students in a more focused manner with the video conferencing. No one else, except a dog or cat, is ever coming into my office during a student meeting – so I am laser-focused on the student at hand."
—Written by Mackenzie Eldred.