As always, Homecoming and Reunion weekend was a lot of fun. Alumni returning to campus, some for the first time in decades, joined with students, faculty and friends to celebrate this special time of year. Here are our Top Ten highlights from the weekend:
1. Lunch with President Feinstein
Alumni enjoyed the opportunity to meet with President Feinstein over lunch Friday. Feinstein shared stories about his first month on the job and answered questions about future plans for the University. Attendees even had the opportunity to enjoy the ambiance created by musicians participating in UNC's Day of Music!
2. Class of 1968 Campus Tour
After learning about all the new and exciting changes in store for UNC, members of the Class of 1968 enjoyed the opportunity to tour their old stomping grounds and see what remains from their days at Colorado State College. Although University Center has now replaced Victory Tower, and students now live in what had been faculty housing, the CSC alumni were thrilled to see the Garden Theater still standing and have their class picture taken on the Hi Bridge.
3. 50 Year Society Induction
15 members of the Colorado State College Class of 1968 were inducted to the 50-year society during a special dinner Friday night in Centennial Hall. Each inductee received a special pin designed with an image of Cranford Hall to signify their membership in the elite society.
4. Athletics Hall of Fame Induction
UNC Athletics celebrated the 5 newest inductees to the Athletic Hall of Fame Friday night. Kelley Arnold, Jack Maughan, Gordon Maddux, Devon Beitzel, and Nancy Steffy (pictured above left to right) were each recognized for individual performance on an athletic team, representing the university, or outstanding contributions on behalf of athletics.
5. Pep Rally, Bonfire & Fireworks
Students, faculty, staff, alumni and community members gathered for an evening of fun, fireworks and UNC spirit! The bright bonfire warmed many hearts and hands on the cold and wet Homecoming eve, and the celebration finished with a bang of blue and gold fireworks.
6. Pepsi UNC Bears Fan Fest & Tailgate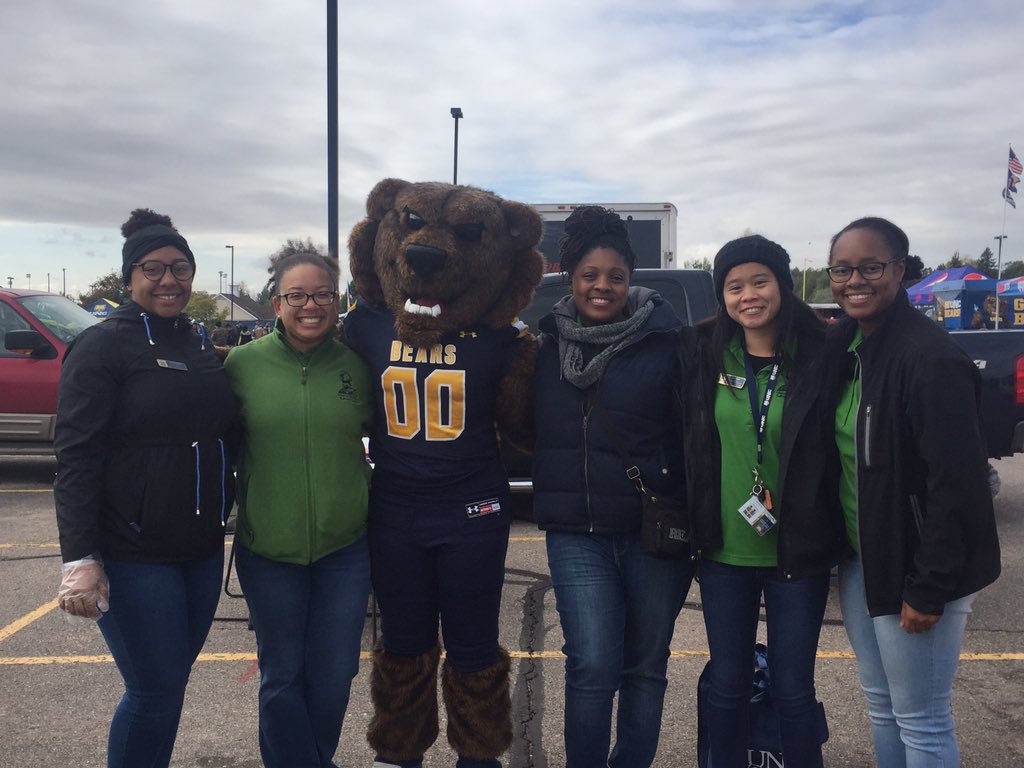 Shout out to Marcus Garvey Cultural Center with UNC mascot Klawz
(Send us your favorite tailgate photos to alumni@unco.edu)
These fans are sporting throwback sweatshirts. Go Bears.
(Send us your favorite tailgate photos to alumni@unco.edu)
Game and alumni tailgate sponsors Stephanie and Jeff Crabtree '05 along with President Feinstein.
(Send us your favorite tailgate photos to alumni@unco.edu)
Bears of every age bundled up and braved the cold for the homecoming fan fest and tailgate! It didn't take long for the good food, great friendships and Blue and Gold Bear pride to fill the parking lot with an air of fun filled warmth.
7. Pride of the Rockies
The Pride of the Rockies Marching Band filled the Pepsi Fan-Fest and Tailgate with the sounds of the UNC Alma Mater, "Ah! Well I Remember!" and the UNC Fight Song before leading the way on to Nottingham Field for the start of the football game against UC Davis.
8. Bear Den – Free Cowbells!
The Bear Den was extra loud and proud for the Homecoming football game on Saturday. All students received free cowbells to cheer on the Bears as they took on the UC Davis Mustangs. President Andy Feinstein joined their numbers with his own personalized Cowbell. Go Bears!
9. Fall Football Afternoon
Although the Bears didn't walk away with a win against UC Davis, fans enjoyed a well fought game on a crisp fall afternoon. Next up the Bears take on Portland State!
10. Day of Music
President Feinstein and many others around the City of Greeley received a surprise visit from the talented students of the UNC School of Music!
From @PresFeinstein on Twitter:
"Look who stopped by my office for @UNCOMusic Day of Music. Students are performing all over Greeley today. Check out their schedule at the bottom of this page: https://bit.ly/2PfJSJa #UNCBears