UNC Homecoming
Show your Blue and Gold spirit and join the UNC Bears in celebrating 2019 Homecoming! It's more than a weekend, we have a full week of events for Spirit Week (October 14 -19). Homecoming is where the UNC Bear family, past and present, gets together to share their Bear Pride in a place they feel at home.
Students selected #BEAREA51 as this year's homecoming theme. This theme is a play on Area 51, however, it's to celebrate our Bears coming home. Current UNC Bears can follow the UNC Undergrad Community (@UNCundergrad) Facebook page for daily social media drawings during Spirit Week. Be sure to look for clues around campus and photo opportunities during Spirit Week and tag them #BEAREA51.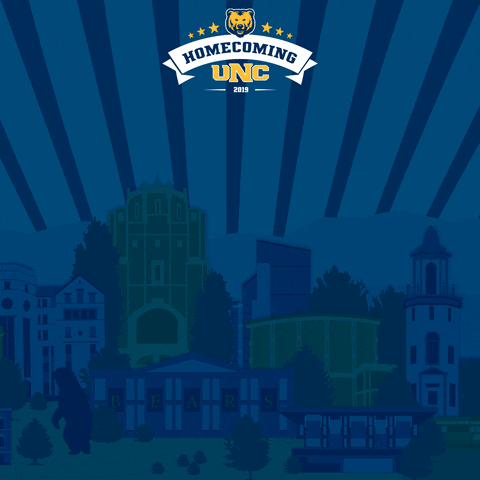 On-Campus Accommodations
Would you like to stay on campus during Homecoming? UNC's Housing & Residential Education has limited guest housing available that is also affordable. Reserve your stay in Decker Hall Guest Housing online at Housing & Residential Education or calling 970-351-2721.
Spirit Week Packet
Download the 2019 Homecoming Spirit Week Packet
Homecoming Banners will be ready to be picked up this Wednesday, October 9, 2019 at the University Program Council Office (2nd Floor of the UC, room #2052
Banners need to be submitted no later than Monday, October 14 at 5:00 pm
Homecoming Spirit Week 2019 Schedule
October 14-19
Students
From Spirit Week to the High Bridge Society, there are many opportunities for students to get involved in the Homecoming tradition.
Alumni
Homecoming is the ideal time to return to your alma mater and relive your college days. Visit the Alumni Events page to find Homecoming opportunities for Alumni.
Any person requesting disability accommodations for these events please contact 970-351-2289 at least three business days in advance.