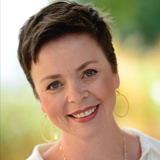 Shelly Gaza
Interim School Director, School of Theatre Arts and Dance; Interim Producing Artistic Director, Little Theatre of the Rockies
School of Theatre Arts & Dance
College of Performing and Visual Arts
Contact Information
Shelly Gaza specializes in Voice & Speech and Advanced Acting Styles. Member: Actors' Equity Association (Union of professional actors and stage managers) and Voice and Speech Trainers Association (VASTA). Professional acting work includes Utah Shakespeare Festival (2000 Tony Award for Best Regional Theatre), The Colorado Symphony Orchestra, and others. MFA from Wayne State University, BFA from Millikin University, and certificate of completion from the Moscow Art Theatre School in Moscow, Russia.
Topics
Finding work as a theatre professional
Joining a union, navigating "day jobs", working in film, television and theatre
Dialects for the Stage
Using the IPA (International Phonetic Alphabet) as an aid to learning dialects, specific dialects include American Southern, English (Received Pronunciation and Cockney), and Irish.
Women in theatre
Gender parity and pay equity in professional theatre
Performing Shakespeare
Analyzing Shakespeare's texts, the physical and vocal demands of performing Shakespeare's plays