Coronavirus Panic Buying Follows Marketing Theories
Toilet paper, pasta and hand sanitizer seem to be as rare and valuable as gold nowadays due to consumers hoarding these and other supplies due to fears of the coronavirus (COVID-19).
But this isn't out of the ordinary during such unexpected and stressful times, according to Daniel Brannon, Ph.D., an assistant professor in the University of Northern Colorado's Monfort College of Business and an expert in consumer behavior.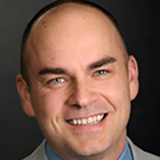 "Research shows that when we have events like this, people feel as if they don't have much control over what's going on and the direction of where things are going," he said. "In order to try to regain control, people will compensate through consumption, like stocking up on items, keeping pantries full and their family safe. Basically, you can't do anything about the macro events going on, so doing small, micro things within your household makes you feel as if you have more control over the bigger situation."
Maslow's hierarchy of needs, a psychological theory that comprises five tiers of human needs and motivations, can be used to analyze human behavior during the COVID-19 pandemic.

Graphic from SimplyPsychology.
Brannon explains that the bottom levels of Maslow's hierarchy are physiological and safety needs -- basics like food, water, shelter and security in all areas of a person's life. Consumers are purchasing items that directly relate to those two areas.
For example, sales of firearms and ammunition have increased rapidly. Ammo.com has reported sales up nearly 70% from Feb. 23 to March 4 compared to the previous 11 days.
At the most basic level, consumers are purchasing toilet paper, hand sanitizer, medical masks and gloves and other items in bulk. Scarcity also contributes to bulk purchases. When a person goes shopping and sees that stock of certain items is diminishing more than other items, then the person is more likely to purchase those items.
"It makes those items seem more valuable than they actually might be," Brannon said. "Looking at what other people have bought as well as social influence actually guides behaviors."
These are temporary shortages – there aren't any issues with supply chain manufacturers delivering such items to the stores. The real issue is people are buying items to stock up, not only for the next week, but for the next month or two. Retailers and supply chains weren't prepared for that rush.
Brannon says supply chains should be able to meet the sudden demand over the next month or so.
"My sense is that this initial panic phrase is interesting, but it all goes according to theory," he said. "It's not surprising that people are indulging in this type of behavior."
Brannon also said he plans on using examples from this "once-in-a-generation" event in future classes; they're real-world examples of the marketing concept of scarcity and consumer behavior.
—Written by Katie Corder