Professional Experience, Career Opportunities
Prepare for a career in marketing in an innovative, hands-on business program at the only business college to earn the coveted Malcolm Baldrige National Quality Award from the Office of the President of the United States. At UNC, you'll work closely with award-winning marketing professionals in a top bachelor's degree program that is accredited by AACSB International—the gold standard of accreditation in business education. It's why our graduates regularly score in the top 5-10 percent on the national Educational Testing Service Major Field Test in Business, and our marketing students have placed first in national marketing competitions.
Get a career guide
Marketing attracts creative and driven individuals who want to understand
customer needs and wants in order to generate interest in a company's products or services. Download our Marketing career guide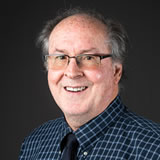 Faculty Spotlight
Denny McCorkle, D.B.A.
Chair and Professor of Marketing
Recognized as one of the Top Marketing Professors on Twitter by Social Media Marketing Magazine, Denny McCorkle, D.B.A., recently received the MCB Teacher of the Year award for the development of his new course in Social Media Marketing. Marketing EDGE (formerly the DMEF) in New York has recognized his contributions with an Outstanding Direct Marketing Educator Award, a Distinguished Teaching Award and eight Collegiate Echo Leader Awards.
Read his blog about using social media marketing for personal branding and job search.
Degree Option
B.S. in Business Administration Marketing
A Bachelor of Science in Business Administration with an emphasis in Marketing equips students with the knowledge and necessary skills to succeed in careers which require that they develop and implement marketing strategies. The emphasis also prepares students for graduate study in marketing and business administration.
Minor Options
Business Administration Minor
Learn about the fundamental areas of business including accounting, computer information systems, finance, management and marketing. Our 18-21 credit minor offers non-business majors a solid business background that will enrich any career path.
Business Administration Minor with Entrepreneurial Option
Want to learn what it takes to operate your own business? Add the Entrepreneurial option to your Business minor and gain a comprehensive overview of the fundamentals of entrepreneurship, marketing analysis and small business operations (requires six additional hours of study).
Global Business Minor
UNC's Global Business Minor is designed for students in Business Administration and wish to pursue an additional area of study in global business. Completion of the minor provides broad exposure to the global areas of business administration. These include at a minimum finance, economics, management and marketing. The minor is only open to students who major in Business Administration.
Related Programs
Experience to prepare you for successful careers
Gain real-world experience and build your resume while working toward your bachelor's degree. At UNC's Monfort School of Business, you'll have professional opportunities usually reserved for graduate programs, working with actual clients in practical business settings through internships, part-time jobs and other hands-on work/learning projects. You'll also get to take part in valuable networking events, hear from some of the world's top business minds who visit as guest speakers, and get involved in a nationally recognized student club.
"Not many Marketing students can say they have experience working with real clients on real projects before they graduate. Getting to be hands-on has helped me feel prepared to conquer my career. I've been to conferences across the country, been on business tours, participated in the marketing club where I worked with real clients on real projects, and more!"
–Sydney Aeschlimann, Class of 2021
Your Future in Marketing
Marketing is about engaging distinct consumer audiences to sell products and services and build customer loyalty. An effective marketer must be both creative and analytical, and ready to adapt to new techniques and technologies in a continually evolving field. These are the kinds of valuable professional skills you'll develop in our Marketing program, working alongside award-winning professors who bring real-world marketing experience to the classroom.
Consider UNC's B.S. in Marketing if you:
Are creative and enjoy finding new ways to communicate with people
Have an interest in working with different forms of media
Excel in small classes with close faculty mentorship
You'll learn:
How to identify target markets, develop marketing strategies and maintain a competitive advantage
How to understand and manage brand equity and build customer relationships
How to develop distribution and sales strategies
Sample courses:
Global Marketing Strategies
Business to Business Marketing
Consumer Behavior
Social Media Marketing
Selling and Sales Management
Marketing Analysis and Research
Beyond the Classroom
Marketing is an essential part of any business plan, for companies large and small, so you'll be able to apply your skills in a wide range of industries and professional settings. As a graduate of an accredited, nationally recognized business program at UNC, you'll also gain a competitive edge in the job market.
Where can your degree take you?
As a marketing major, you'll gain the knowledge and skills to pursue careers in product planning and development, professional sales, supply chain, advertising and other diverse business areas. Possible professional positions include marketing manager, sales manager, product manager and advertising manager.
Current Research in Marketing
In addition to being dedicated educators and mentors, our professors are accomplished researchers in their areas of expertise. Current research projects in business administration include:
Trust and Commitment as Mediators Between Economic and Non-economic Satisfaction in Manufacturer-supplier Relationships
Janice Payan, Ph.D., Professor of Marketing
Janice Payan, Ph.D., recently co-authored a paper exploring a research model in which trust and commitment are mediators between economic and non-economic satisfaction. The study found that there is no direct relationship between economic and non-economic satisfaction, meaning that managers should consider economic and non-economic satisfaction as two separate aspects of relationship quality in business relationships. It also found that the level of economic satisfaction is an influential precursor to the levels of trust and commitment, which in turn impacts the level of non-economic satisfaction. The study is detailed in the Journal of Business & Industrial Marketing.
Ready for what's next?
Here's what you need to know.
If there's anything else we can do, be sure to connect with us. We're only a shout away.
Still not completely sold? We understand. Here's more information on cost and aid and how to apply.
Look at you go! We're excited to meet you.
We'll send you some more details.
There's nothing quite like walking on our turf. Take a virtual tour.